Jennifer Jo Oberle
bass, vocals & other stuff - bio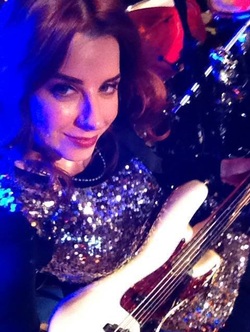 Jennifer Jo Oberle is a professional bassist, vocalist, songwriter & arranger based out of Los Angeles, CA.
Jenn started out in Brooklyn, NY playing drums for local punk/glam bands at the age of 15. A classically trained pianist, she received an Associates Degree in Music from Kingsborough Community College specializing in piano & voice.
It was once Jennifer picked up the bass that she knew what musical path to take. Her powerful voice, range, musical instincts & recall have kept her in demand ever since.
Jenn received a Bachelors Degree with honors in Bass Performance from Berklee College of Music, where she studied with some of the world's finest instructors, strengthening her bass skills while developing an interest in arranging, afro-cuban, world music and various jazz styles.
Currently living in Los Angeles, Jenn has continued to become even more versatile. Working with dozens of artists in a wide variety of styles she has also served as a musical director, keyboardist, guitarist and percussionist. Jenn has composed several songs for films and has performed on various TV programs, most recently the
Tonight Show with Jay Leno
,
Good Day LA with Denny Laine (Wings/Moody Blues)
and
Terry Sylvester (The Hollies)
. She was also chosen to record and star in several videos for the
Bose SB50 FANTRACKS Campaign
in 2016.
More artists mentioned here.
Jennifer has produced a very successful Kate Bush Tribute, which featured 40 of LA's finest musicians. She has also arranged horns for Wild Honey's Beach Boys Tribute, featuring Al Jardine, and is a
touring bassist for
Five for Fighting, Vertical Horizon, Peter Asher, and Denny Laine (Moody Blues/Wings), and Rita Wilson.
---